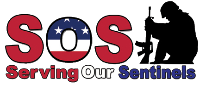 If you have a desire to help veterans and their families, consider joining Serving Our Sentinels in making a difference in the life of a veteran.



There are numerous ways that you can help.
Become a Member of Our Team - Team members work to find potential candidates, research needs, mentor candidates, help plan fundraisers and other events, and more. (We meet once a month to discuss our veterans' progress, to share ideas, and to strategize).
Make a Monetary Donation - Funds are always needed for our general fund, so that we can provide assistance to veterans who need it. Please make checks payable to Serving Our Sentinels and mail them to the address below.
Make an In-Kind Donation

(Large or Small) - Past donations have ranged from rental units and vehicles to silverware or professional advice.

Help Us Raise Funds -

We sponsor occasional fund-raising events. If event planning is your gift, please consider sharing it with us.

Pray for Our Military - Be a prayer warrior for those who are fighting for our freedoms.
Contact us for more information on any of these service opportunities.