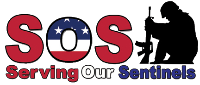 Serving Our Sentinels first became an outreach ministry of Christ Church at Grove Farm in Sewickley, PA in 2007. We acquired 501(c)(3) status in 2009. We are a 100% volunteer ministry.
Since the price of freedom has been paid by our Military, we strive to assist wounded Veterans. Our goal is to aid in their efforts to become or maintain their stature as productive and self-sufficient members of their communities. By doing this, not only are we giving help, but are raising awareness of the sacrifices Veterans have made, and hoping to motivate local communities to rally behind our Military Heroes.

Members of our team donate both their time and money to ensure that our funds remain available to provide
for the needs of Veterans and their families.
There are a record number of veterans in western Pennsylvania. Many of these "sentinels" have experienced unthinkable horrors. Their wounds are deep, both physically and mentally. Both veterans and their families are affected. Spiritual healing is a major part of the process.
As long as the needs exists, we will joyfully and prayerfully continue in Serving Our Sentinels.
______________________________________________________________________________________



In November, we are going to be collecting donations for Christmas packages for deployed soldiers. We will be receiving the items in the Commons Area of Christ Church at Grove Farm on Sunday, November 11 and Sunday, November 18. We will then gather to package the items on Sunday, November 25 in Room 102.

If you'd like to help with this effort, click HERE for a list of items soldiers have requested. We are grateful for your help in making this Christmas season a little brighter for those who are defending our freedoms throughout the world.