Striving to Repay Our Veterans for Their Sacrifices
Brandon Rumbaugh is a Marine who lost both of his legs during his second tour in Afghanistan. Shane Stadtmiller, a 15 year Army Veteran, retired as a Major after serving two tours in Iraq.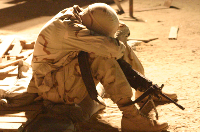 "I believe we have to live our lives, with all that is hard and painful, even though you can never know why things happen. The important task is to still find a way to choose to live every day." - Brandon
"I just want people out there to know there's plenty of soldiers that come back and need help." - Shane
"Thank you for the flood of support. Everyone touched by seeing the care
packages piling up, can only smile. It touched me knowing how many people care about those of us overseas. As a child 13 years ago, I remember sending out a box, but until you receive one, it is hard to know the real impact. Thank you SOS!"
- SrA Johnson-Reale, USAF
________________________________________________________________________________
If you know of a wounded veteran needing assistance, please recommend
that he or she contact Serving Our Sentinels.